How Often Should You Replace Your Oil?
---
Your routine Mercedes-Benz synthetic motor oil replacement is an essential part of maintaining the health of your Mercedes-Benz vehicle. Thanks to the improvements in oil and engine technologies, your vehicle can go longer before needing to replace the oil. Most new Mercedes-Benz vehicles have an oil replacement frequency between 7,500 and 10,000 miles. However, this is just a rule of thumb, and you should always refer to your vehicle's owner's manual for specific guidelines for your model. Don't hesitate to contact the service department at Mercedes-Benz of West Chester if you have any questions.
What's the Recommended Oil Change Frequency?
How often should you replace your oil? Some vehicles will have higher oil replacement frequency than others, and vice versa, but it's typically recommended to replace the oil every 7,000 to 10,000 miles. If you do a lot of driving around Cincinnati and Mason includes any of the following types of driving, you may need to replace your oil more often:
Off-roading

Commercial use

Racing

Heavy towing
Oil Change Frequency Information
Get additional oil replacement tips below, and don't hesitate to reach out to our service team with any questions:
Check your vehicle's owner's manual to see if you should use synthetic or conventional oil. Synthetic oil costs more but lasts longer.

Oil does break down, even if you don't drive a lot. A Mercedes-Benz synthetic motor oil replacement should be done at least twice a year.

You should also have your oil filter change when the oil replacement is done. Our

parts center

can make sure you get the right oil filter for your vehicle.
How Often Should You Check the Oil Level?
The oil level should be checked at least once a month to avoid any issues while you're out driving around the West Chester area. Be on the lookout for any changes in the oil's color and text, as those are signs of serious issues. If the oil is low, schedule your service appointment with our service center at Mercedes-Benz of West Chester.
Trust Mercedes-Benz of West Chester for Your Servicing Needs!
Now that you know how often you should replace your oil, trust our factory-trained and certified experts at Mercedes-Benz of West Chester. When you're ready to schedule your next oil change, just give us a call. Call us today with any questions!
Service Specials at Mercedes-Benz of West Chester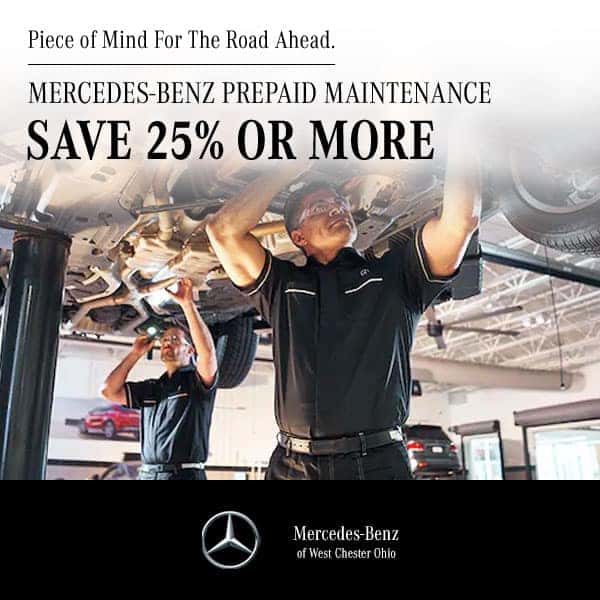 *For details, exclusions, and limitations on Mercedes-Benz Premier Prepaid Maintenance, contact your dealer, visit www.mbusa.com/maintenance or call 1-800-FOR-MERCEDES.
Mercedes-Benz of West Chester
5897 Muhlhauser Rd, West Chester, OH
Service: (513) 870-1000
Peace of Mind for the Road Ahead
Expires:
;